Book Review: Change of Heart, by Roseanne Wilkins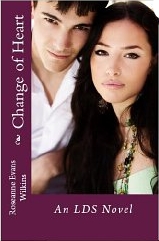 This is the first of Roseanne Wilkins' novels that I've read, and I loved it! It captured well the stress, and ups and downs of college dating, and provided an exciting suspense story that kept the book moving well from beginning to end.
Like any good romance, I found myself silently shouting at the characters, "Don't do it! Red flag!" and "Can't you see he's awesome! Go get him!" as well as a few, "Don't go around that corner!"s.
Once I started, I couldn't put it down, and finished it within two days. Way to go, Roseanne! You nailed it!