Book Review: Diary of a Single Mormon Female, by Aleesa Sutton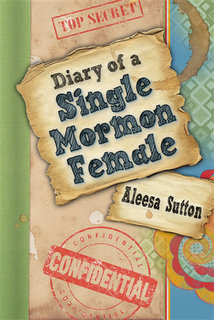 If it's been a while since you've been in the dating game, and you have unmarried friends, family, neighbors, or kids, you need to pick up a copy of Aleesa Sutton's book, Diary of a Single Mormon Female.
I could say a lot for how fun it was to read–I was laughing on nearly every page because of how real Aleesa's experiences are to life as an unmarried member of the church (it brought back a lot of funny, frightening, pleasant, and not-so-pleasant memories of those years!), but what really struck me was the realization that most members of the church who are NOT single don't know most of this stuff. Those who have been married for more than a few years simply don't realize what members of the church in Aleesa's situation are going through. They are quick to offer a shoulder, but struggle to understand what the person is really going through.
Singles will relate with Aleesa, but I would most especially recommend this book to leaders and parents of youth and young adults. Read it to understand what they're going through. Read it to understand why they do what they do. And read it before dishing out quick advice. It's so easy to think, "Oh, if he would just ask the girl out…" or "Why won't she just do the same thing I did?" or, "Maybe if I just suggest someone…" even when such a suggestion may sometimes be counterproductive, or even hurtful.
The book also illustrates how powerful trials of faith can be, and how grinding they can be on the soul. It also offers encouragement to continue to do what's right, even when you don't feel like it. I once heard it said that if you were to assume that everyone you meet is in some kind of crisis, 80% of the time you would be right. If you want to understand what a crisis of faith feels like, read Aleesa's book. It's in the very fire of affliction, when it seems there's nothing left, that character is melted into something beautiful. And as Aleesa's example demonstrates, even when pain isn't lifted, it doesn't have to destroy.