Book Review: Marriage 101 for Men: Why Taking Out the Trash Is a Turn On, by Sherri Mills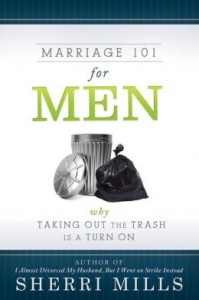 Okay guys, listen up. Sherri Mills has a book out for you and I highly suggest you read it. I don't care if you're happily married, unhappily married, or not yet married, you REALLY ought to read Sherri's book, called, "Marriage 101 for Men."
Now if you're like I used to be, whenever you do a load of dishes, you tend to think you're helping your wife. Or when you do a load of laundry–perhaps even the KIDS' laundry, you think you're being such a good help.
If you do, you're most likely wrong.
Sherri explains this FAR better than I do, but doing housework is about fair distribution, and especially about ownership! You don't do dishes because it helps your wife–you do dishes because it's YOUR job. You need to take ownership of it and do it your way. Make your wife proud! But this isn't a one-way thing. Sherri also does a fabulous job teaching you how to help your wife understand that she doesn't need to control the parts of housework that are yours.
Anyway, Sherri's done a great job helping every husband understand what his wife is experiencing, and empowering him to become the hero he wants to be for his wife.
Just read the book. You'll be glad you did.