I have a confession to make. I'm no manly man. I'm sure this confession is no surprise to those who know me well, but others have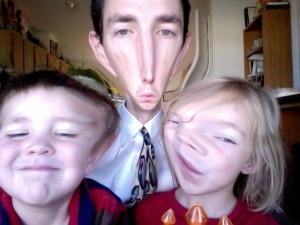 a hard time accepting the fact.

Point 1: Ixnay on watching sports.
I hate football (I wouldn't want to play it, let alone watch it). I would rather sit in a silent room with the lights off than sit in a room with sports playing on a screen. By FAR. Blegh. No thanks. That pretty much goes for all sports, but football is at the top of my never-want-to-watch list. Don't get me wrong, I love physical activity. Don't challenge me to a dance-off unless you want to lose. I even enjoy a number of sports. But NOT football, and NOT watching someone else have all the fun.
Point 2: I'm no handyman.
Sure, I'm comfortable with power-drill or hammer, but don't ask me to use it to fix stuff. I usually make things much worse when I try.
I'm constantly visiting the hardware store, but not for the reason you might think. I try so hard to avoid the associates. Not that I don't think they can help. No doubt they could point me exactly where I need to go. But they always ask that dreaded, satanic question, "So, what are you working on?" DAAAAAAAAHHHHH!
Don't get me wrong. I totally get their intent. They're being nice, and it's a very nice question to ask a manly man.
"Ahem…" I start, "Well, see… it's a… well, it's kind of a…" and finally, recognizing I'm cornered, and can only make it worse by drawing out the moment, say, "A Marimba—it's like an African Xylophone," or "A three-octave pentatonic Native American pan flute," or, "A didgeridoo with a rainstick embedded inside it."
Their eyes glaze over, and while they're deciding whether my words are something that can responded to, I slip away and purchase my supplies.
Point 3: Asking directions
I will GLADLY ask directions. From. Anyone. Still, I do so love my navigation app. Oh, blessed Android!
Point 4: I'm domestic
I enjoy cooking, I do laundry, dishes, clean the bathroom, and grocery shop. And not because I'm "helping" my wife. It's my job, and I do it. I chose those tasks, and I do them—usually cheerfully. I would FAR rather do dishes, mop the floor, AND scrub all the counters than even open the hood of a car. Which brings me to the next point.
Point 5: I hate cars
There aren't many things I hate, really. But I've mentioned watching sports, home-repair, and explaining my projects to hardware store assistance, but cars—especially fixing cars, tops the lot. If I had to choose between scrubbing the putrescent floors of a hog farm and fixing a car, hand me the scrubber. I long for the day when transporters are invented so I don't have to get into those ridiculous driving machines again.
And if you ever get in a conversation with me about cars, don't be surprised if I offer to talk about a more pleasant topic, such as what I discovered in my child's vomit.
Point 6: I'm a jabber-mouth
I talk. A lot. Just not about cars, football, and home-improvement projects. Actually, I find women a lot more interesting to talk to than men, because they actually talk about interesting things, like gardening, books, child-psychology, cooking, and relationships. If you're ever in a conversation with me, and you find me a little quiet, it's either because I'm being genuinely shy, or you're trying to talk about manly subjects.
Point 7: I LOVE Kids
I've always adored kids. The younger the better. I tried for years to get a job working in a day care, but the most common reason they'd give for turning me down was that, straight and simple, I'm a guy. So I got married and grew my own day care.
The Funnest calling I ever had (and the one I would have most enjoyed doing until the day I died) was teaching the Sunbeams.
And yes, I willingly change my kids' diapers.