I Know that My Redeemer Lives
Podcast: Play in new window | Download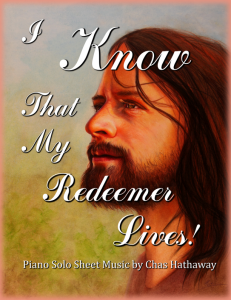 I tried to portray my feelings about the Savior while writing this arrangement.
I don't remember a time when I didn't know Jesus was real, but I've had a number of experiences that have confirmed that knowledge, again and again.
I think the big discovery for me was that His atonement was for me. It took some soul searching, praying, studying, and conversing with God to convince me that Jesus loved me that much. Others, sure, but me? 
Now I can't get over how incredibly loving, caring, and understanding He is. Seriously, me???
And it's no fairy tail. All that stuff about Him suffering for my sins, rising from the dead, and being God's literal son, it's all real. So real, in fact, that He continues to change lives every day. So real that He continues to change my life–every day. I love Him. Oh, how I love Him!
It's no wonder He asks much of us. He sees more in us than we can comprehend.
He lives.
He really does.
And because He lives, now you can, too.