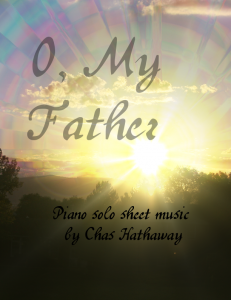 One of my favorite quotes is by President Ezra Taft Benson. He said, "Nothing is going to startle us more when we passthrough the veil to the other side than to realize how well we know ourFather and how familiar his face is to us." ("Jesus Christ—Gifts andExpectations," in Speeches of the Year, 1974, Provo: Brigham Young University Press, 1975, p. 313.)
I believe that. God is not a distant being. He's a loving, intimate, and kind Father. He teaches, guides, chastises, and loves us all. Sometimes, like tantruming three-year-olds, we forget that, and think He must hate us because we've caused ourselves pain.
But in quiet moments, when we listen, we can hear His voice, whispering that He loves us, and wants to help us become more than what we are. And I think He's whispering it a lot more often than we may think.
The sheet music and MP3 are available on my website.