Someone on Facebook today asked,
Why does every version of 'Little Drummer Boy' use a snare drum? I'm pretty sure they didn't have snare drums back then. And that a snare drum would make a baby cry. Maybe a little native lap drum covered with animal hide, played gently? Or are we carrying the baby into the Battle of Gettysburg?
So right! Now, obviously, the Little Drummer Boy is a made up story, but let's just say it were true. If it were true, what kind of drum would the drummer boy have? So I tried to look it up. Turns out the question is bigger than I thought it would be! So let's journey the question together.
My first thought is a hebrew drum, since Jesus was a Hebrew. What kinds of drums did Hebrews use?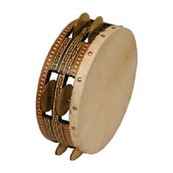 Here's a common Hebrew drum called a Timbrel. These were common in Old Testament and New Testament times. You'll notice it looks similar to the modern tambourine.
Then again, the song says, "I am a poor boy, too." Which makes me think a drum like this was probably too expensive for a poor little boy. So let's see about a poorer style. Maybe something without the timbrel bells…

Okay, I guess that works. This would be a common frame drum. Probably the best thing a Hebrew shepherd boy could get.
Nice.
But hang on, duh! The boy probably wasn't a Hebrew at all. The song says, "Come, they told me, our finest gifts we bring." He was tagging along with the wise men. Shoot. Start over…
Let's see, so they're from the east. Okay, ancient Asian drum.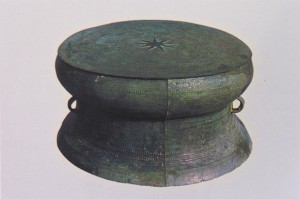 Here's a bronze drum from the Han Dynasty period (about 200 BC to 200 AD).But let's face it, no little boy is going to be able to carry this metal chunk across the desert.
Can we try a little lighter?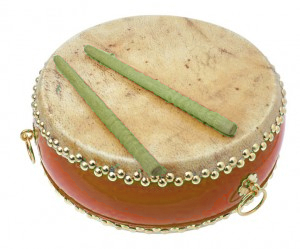 This is a fun little asian drum, but still a little too posh for a poor boy.
This is the style of an ancient doumbek drum.These are from ancient Korea. Nice, but still a bit big for a little guy.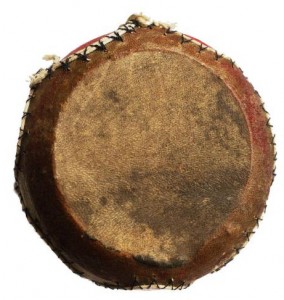 Okay, now we're talking. This is in the same drum family, but called a miniature darbuka. Perfect for a little poor boy.
But before we decide conclusively, maybe we better double check to make sure the "east" referred to is Asia.
Quick search…
Okay, according to Wikipedia (the source of all truth… ahem… right), the wise men were more likely from Babylon, Persia, Yemen, Arabia, Pakistan, or India. Oh, man. Just to save us on time and effort, let's assume that those places are close enough that we can find a common poor drum from a few of those areas, and assume it's probably very similar to the drums you would find in the other areas. Okay… here we go.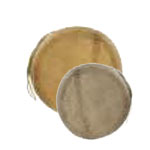 Here's an Indian thappu drum. Though I can't be sure on how long these have been around, it looks basic enough that it may have been around at that time. I like how the leather wraps around the frame. It's played with either two sticks, a big one and a small one, or by hand.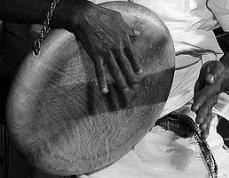 Here's another view of the hand thappu.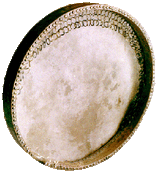 Here's a Persian drum called a Daf. It's made of goat skin, and has rings inside to give it a little rattle as it's played. This is probably the closest thing to a snare drum he might have. Though, again, being a poor boy, I'm guessing his wouldn't have the rings.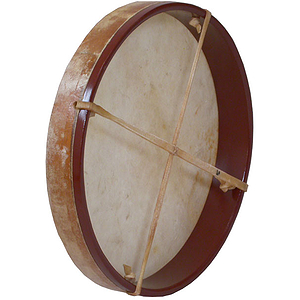 Now this is one I can relate to. This is a frame drum from Pakistan, and looks, and likely sounds, similar to a Gaelic Bodhran. I have a bodhran. And though a little poor boy would have no problem carrying this wide frame drum, I'm guessing his would probably be a little smaller.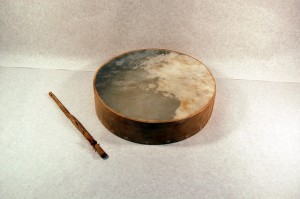 There. This is a simple Pakistan frame drum, and just for fun, it's got a stick. You may notice this drum is almost identical to the Hebrew frame drum.

Actually, simple frame drums are one of the most universal drums of this era, and would therefore probably be the cheapest, and the easiest for a little boy to carry and play.
Here's a video of a small frame drum:

My guess is that if there was a little drummer boy, his drum would look and sound something like this.