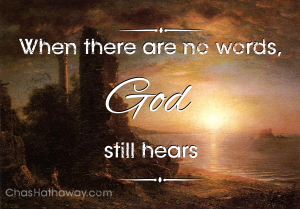 Let's face it, there are sometimes when we kneel to pray, and the words don't come. There are times when someone else is suffering so badly that we can't begin to know how to help, let alone respond. There are times when despite our best efforts, nothing works, and there is nothing we can do about it.
It's at those times, I remind myself of this simple principle: when there are no words, God still hears.
I remember once talking to a woman once who was afraid to pray. It seemed that every time she tried, something would go wrong. Her life itself had paralyzed her from the ability to kneel and speak to God.
Though I couldn't pretend to know what she was going through, I was having a pretty tough time myself at the time. Not knowing what else to say, I told her that I too, have had times when it was difficult to pray. For me it was never out of fear, but out of frustration, anger, guilt, or dismay.
"At those times," I told her, "all I can seem to do is listen. If I have no words to say, I simply address my Father in Heaven and then listen in my heart. I know that our Father in Heaven can hear the words that we cannot say, and will answer those prayers. But pray to Him, even if all you can do is listen."
At that time, I discovered the truth of Elder Packer's words that "In your emotions, the spirit and the body come closest to being one,"* because as I spoke, the Spirit grew very strong, and I wept.
I know now that at those times of struggle, when I felt that there were no words to speak in my prayers, and I simply opened my prayer and then listened—my heart was speaking, even though my mind was silent. Since that conversation I've thought about that concept often. Sometimes my heart feels so empty that I feel that there is nothing to say. Sometimes I feel so ashamed that I can't bare to speak a word—even in my mind. Sometimes I feel so hurt that I can't find the words to speak.
Through such experiences, I have discovered something about our Father in Heaven. He is the most perfect listener in the universe. He can hear words that are not even spoken in the mind. I wonder sometimes if the spirit of a person communicates in a different way than by language. I wonder if it speaks through feelings and concepts. Whether or not this is the case, I know that our Father in Heaven hears those feelings as clearly as if I'd shouted them out loud.
I wouldn't suggest that our prayers ought not include words. I believe that these things are necessary to building and strengthening our relationship with God, especially in offering thanks, petitioning for the Lord's help, and in the repentance process. I believe that prayer should include entire conversations with Heavenly Father. But on those rare moments when we cannot seem to say the words, whatever the reason, if we open our prayer and simply listen for a few minutes, we will hear and learn things that we may have never been able to learn in any other way.
By our becoming acquainted with God's beautiful power to listen to the words we do not speak, we will learn to listen to the finer, purer, wordless messages that He sends so regularly to our hearts.
* (Boyd K. Packer, "Personal Revelation: The Gift, the Test, and the Promise," Liahona, Jun 1997, 8)