Some people are bothered by my statement that I stand by the Church of Jesus Christ of Latter-day Saints on every issue. I'd like to talk about that for a few minutes, because it seems to come up often.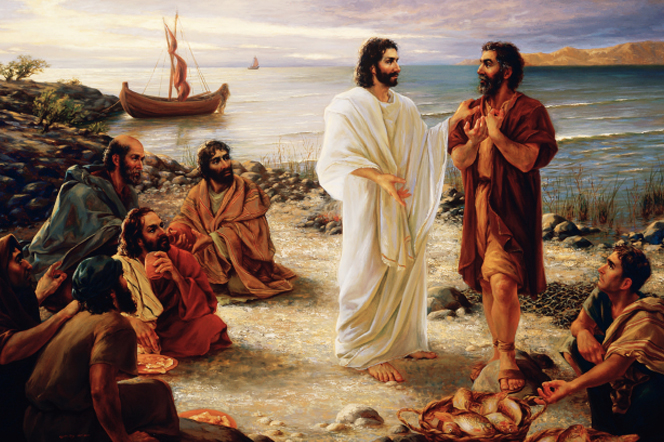 I think one of the reasons this statement bothers people is because independent thought and conscious choice are such valuable and essential aspects of the plan of happiness. And I agree, those things are absolutely essential, and it's for that very reason that I feel as I do. Some would say that being so loyal to the church and its leaders is a way of handing my agency to someone else. That's a valid concern. But remember, this is my agency. I have to choose what I do, choose what I believe, and choose whether or not to act on what I believe. Well, it's simple. I choose to stand by the church in every issue. That's my agency in action. That's what I choose, and I will continue to choose it all my life. It takes a great deal of character and loyalty to make a choice like that. It takes courage, faith, and determination. It takes work. And that's the choice I am making.
Another concern some have is that by simply obeying, I'm allowing someone else (or perhaps the church itself) to do the thinking for me. The concern is that I'm just being the obedient workhorse plugging away, pulling when I'm asked to pull (even if I don't know what I'm pulling), and traveling when I'm asked to travel (even if I don't know where I'm going). That too, is a valid concern. But there's one thing that this concern isn't taking into consideration. Who is most likely to be thinking—like, really, deeply, meaningfully thinking about the thing we've been commanded? Think about it. Which of these three are most likely to do the most thinking about the particular issue:
The person from the outside, whose not at all interested in heeding the counsel;
The one in the church, but looking for the reasons, wandering and waiting for solid logic and reason before proceeding; or
The person actively doing the thing requested.
I believe those actively obeying are doing a great deal more thinking about the issue than anyone else. They're the ones who stand by the teaching regardless of the persecution, legal ramifications, or abuse against them for doing so.
I can't speak for everyone, but when the Lord commands something, or teaches a principle, or proclaims a doctrine, by his living prophet—even if it's something I don't personally understand or agree with, and I act on it, stand by it, and teach it, I can assure you I'm doing a boat-load of thinking, pondering, praying, and studying about it.
And while I'm sure both the obedient person and the disobedient person are looking to different sources for their answers, and may come to very different conclusions, I'm confident that almost always, the obedient person has put a lot more time, thought, and energy into the matter than the disobedient.
And every time I've obediently proceeded, and simultaneously thought, studied, prayed, and questioned the teaching, I've always come to see the deep spiritual, mental, emotional, and physical significance of the thing taught. I'm always left in awe at the wisdom and foresight the Lord has demonstrated in everything He has ever requested of me.
Another factor that can be difficult to explain to people is the matter of personal revelation. Even many who believe mostly as I do conclude that before they will proceed, they must receive personal inspiration from God that the teaching is right. I think it comes down to what kind of testimony a person has. Don't get me wrong, I don't call one type of testimony "superior" to another, but I do believe that the closer we come to the Savior, and the stronger our testimony is, the more we will be able to place our faith in Him without reservation. And the more we do so, the faster the further light and understanding come.
I once heard the prophet of God teach a principle, and I immediately accepted it. Not in a shoulder shrugging compliance, but because as he spoke, the Holy Spirit filled my heart, testifying clearly and unmistakably that the principle being taught was true. I had long since received a personal testimony by the power of the Holy Ghost that the prophet was truly called of God, and that His words, if heeded, would always lead me aright. My experience with the Spirit in that particular meeting simply strengthened that testimony. Several days later, while speaking to a friend about the teaching, she said, "But what about finding out the truth for ourselves? That may be what the prophet said, but I can't believe it unless the Lord tells me personally as well."
My friend was holding back until she could receive an independent testimony of the principle taught. But I've found that when I listen with a believing heart, I often receive that answer the moment the teaching is given. Then, the questions most worth asking the Lord are things like, how should I apply the principle in my own life, for my situation? Or what can I do to best teach this principle to others?
I have heard some suggest that those members of the church prior to 1978 that weren't picketing against the church's stand on the priesthood were in the wrong—that they should have been more actively involved in bringing about the change. I see two problems with that. First, it's the Lord who made the change, not the saints. And second, those in a position to receive the revelation (Spencer W. Kimball and the twelve apostles) never once voiced a single word of opposition to the policy of the Lord's church at that time. They received assurance from the Lord that the time would come, but they were not told when. They petitioned as they felt moved upon by the Holy Ghost. Only after faithful compliance and diligent prayer did the Lord finally give the revelation that changed church policy forever.
There were previous generations of prophets who petitioned the Lord on the very same issue, and they were turned away. The Lord knew what He was doing, and every church leader stood firm by the policy, because that's what loyalty is. They didn't understand it, and though they had questions, and brought them before the Lord, they always stood true to the answers given.
I feel to do the same.
That brings up another important point. Sometimes a principle isn't intended to be fully understood before the commandment or revelation is given. A good example of this is plural marriage in the early days of the church. Some today are troubled that the church once practiced it. But the revelation to live that principle is not given to us today. We are not to practice plural marriage—and if we make the attempt, we will be excommunicated. We can't expect a testimony of the full meaning of plural marriage right now because we are commanded not to live it. We accept in faith the fact that the Lord has different instructions to different people at different times.
Many saints in the early days of the church were commanded to live it, and with the commandment came the understanding and testimony. A great example of this was Brigham Young.
Would it surprise you to learn that Brigham Young was deeply troubled by the principle? He thought it had come from an evil source. But instead of picketing against it, or speaking out about it publicly, he prayed to the Lord about it. When, up to that point, it wasn't enough, he spoke to the prophet himself. He discussed it with Joseph in a private conversation—not in a meeting with other elders, but in the privacy of his front yard one evening after the prophet walked him home. The only reason we know about the conversation is because the night was warm, and Brigham's wife had her window open to cool her room, and she overheard the conversation.
According to S. Dilworth Young:
Down this road came Brigham Young and Joseph Smith. She (Brigham's wife) heard Brigham say to Joseph, "Joseph, the doctrine of eternal marriage as you described it to me is not from the right source."

Joseph Smith said to him, "It is from the right source, and you will know it, Brother Brigham."

Brother Brigham then moved toward the door to open the latch, and Joseph Smith walked on up the street. Then Brigham stopped. He didn't pull the latch string. He suddenly called out, "Joseph! Joseph! The Lord has revealed it to me!"
My point in sharing this account is to say that sometimes we're not intended to fully understand or receive a testimony of a principle before the commandment is given. But if we are faithful, and a revelation is given that might contradict our previous views, and we seek the Lord's guidance, He will provide us with a testimony of the principle. It may not come all at once, like Brigham's, but when it does come, it will be so clear and sure that we may come to wonder how we could have ever seen things differently. And in the meantime, if we remain faithful and loyal to what the Lord has already revealed, we place ourselves in the best position possible to receive more light and knowledge when the Lord sees fit.
In regards to honest questions, or even doubts, Elder Jeffrey R. Holland gave a beautiful bit of wisdom that I wholeheartedly stand by when he said,
When those moments come and issues surface, the resolution of which is not immediately forthcoming, hold fast to what you already know and stand strong until additional knowledge comes…

When problems come and questions arise, do not start your quest for faith by saying how much you do not have, leading as it were with your "unbelief." That is like trying to stuff a turkey through the beak! Let me be clear on this point: I am not asking you to pretend to faith you do not have. I am asking you to be true to the faith you do have. Sometimes we act as if an honest declaration of doubt is a higher manifestation of moral courage than is an honest declaration of faith. It is not! So let us all remember the clear message of this scriptural account: Be as candid about your questions as you need to be; life is full of them on one subject or another. But if you and your family want to be healed, don't let those questions stand in the way of faith working its miracle.

https://www.lds.org/general-conference/2013/04/lord-i-believe?lang=eng
When it comes down to it, I stand with the Church of Jesus Christ of Latter-day Saints on every issue because God has revealed to me by the power of the Holy Ghost that the living prophet has been called of God, that he speaks the word of God to the church, and that if I follow his counsel regardless of the consequences, I will be doing the right thing. I will be acting according to the will of God for me. That testimony has been burned so deeply into me that I can't deny it without calling God a liar to His face. I know it's true. The Lord leads this church. And what a beautiful thing that is! The Lord speaks to us through the living prophet, and God has revealed the truth of His words to me.