Maybe Jenni and I are just weird, and maybe we're naïve, since we've only been married 10 years, but we feel like marriage isn't hard.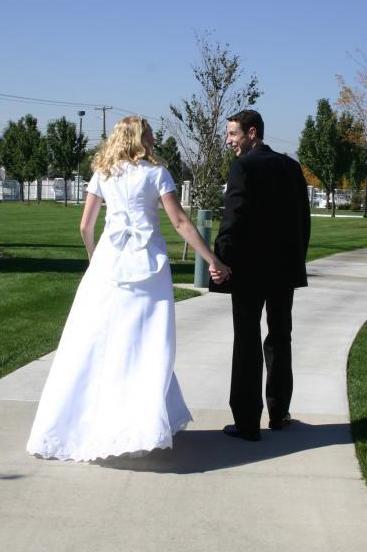 Marriage is not tough. Life is tough. Life stinks sometimes. It can be excruciatingly painful and hard, but marriage is one of the best systems for dealing with the difficulty life presents. Having someone to talk to, to lean on, to reach out to, to serve, to help, to confide in, to love, to cry with, to hold, makes life manageable.
Even the genuine differences of opinion, and different views on various topics aren't difficult in marriage. Pride and selfishness are hard, and cause problems, but pride isn't marriage, and selfishness isn't marriage. Those things hurt marriage, damaging our best system for dealing with the difficulties of life.
Life is hard. Sin is hard. Pride and selfishness are hard, with or without marriage. Marriage is not hard.
What I'm talking about is less intended as a statement of "fact," and more of a statement of perspective. And while words alone do nothing to dramatically change the day to day experiences of life in an extremely challenging and cruel world, a change in the way we see the world around us can. What I'm promoting is a paradigm shift: an entirely different way of viewing marriage.
I see marriage as a perfect ideal. Marriage is selfless, kind, generous, loving, patient, empowering, binding, synergistic, and even exalting. Marriage is something that goes well beyond the simple addition of two individuals entering a life-long partnership. It's the essence that takes that initial partnership and turns it into the germinating seeds of divine companionship. Marriage, as an institution, ordained of God, is perfect. It lifts, it deepens, and it expands. It has no flaws, and it always pulls people together.
People, on the other hand, are flawed. People are imperfect. People are emotionally, mentally, intellectually, and physically unstable in countless ways. We're mortals living on a very, very mortal world. Life on this earth is intended to be hard. It's intended to be infuriatingly challenging, almost to the point of impossible, for one simple reason. We are the direct offspring of God. No simple life would suffice to teach embryonic deities the essential lessons to become all that our Father intends us to be. Life, in all its stages, was never intended to be easy.
God sends us here because He knows what we have the power to become. He has given us the tools necessary to become like He is. There's a reason that the family is central to God's plan. It's not just a way of keeping us organized. It's not just a way of saving us from loneliness. Marriage is an exalting organization. It's an endowment of power, the very seed of exaltation. There's a reason that the sealing covenant is called the covenant of exaltation. Marriage, most especially temple marriage, actually begins that process.
And yet, in all of this, we're still imperfect, flawed, mortal beings. But we're learning. We're growing. We're failing (a LOT), and if we're taking the right approach, we're learning from our failures and becoming better. That process is hard. It's really hard. But it's not the exalting powers and gifts given by God that make it so hard. It's the imperfect, flawed, mortal parts of ourselves that make it hard.
I don't deny that life as a married person is hard. Life as an anything is hard. But marriage itself—that ennobling, binding, wondrous blessing that strengthens us as a couple and as a family to endure the crosses of life—is not hard. It's wonderful, liberating, and joyful.
The problems arrive when I act against my marriage. When I am selfish, when I am prideful, when I forget to exercise the power God has bestowed upon me in order to bless, strengthen, and love my wife, I am being a problem. And at those times, I need to change. I can't act against what I know is right without hurting my marriage, and marriage is the very embodiment of everything I know to be right.
That's why I can never blame marriage for any of life's problems. Marriage lifts. Sin pulls down. Marriage exalts. Pride and selfishness damn.
When I find that I'm not measuring up, I don't blame my marriage, and I don't blame my wife. I try hard not to allow myself to get too discouraged with myself, either. And the simple way to avoid discouragement is to change—to humble myself, apologize, and change my behavior. I know I won't be perfect in this life, but the journey is so empowering and ennobling that I can't give it up, I can't stop. And I certainly won't ever throw away one of the best tools available for making that happen for both me and my wife. We're in this for the long run. We're in it forever. It's not eternity or bust, it's just eternity.
And we're going to make it work, together.